Feed the Fox
The sly fox is hungry and he wants to eat eggs. Remove the blocks and drop the egg low enough for him to reach. Easy and good Skill & Brain games.
Play review and controls of Feed the Fox Game
This is a physics game in feed the fox games which is perfect and fun for those who enjoys this kind of brain exercising games. The objective in this game is to remove the stones (gray blocks) and drop the egg safely on the hay (yellow blocks). Sly fox is hungry and he needs the eggs to fill his belly and he is expecting to help you. In order to advance to the next level, you need to remove all the stones and make the egg rest on the hay blocks safely for the sly fox to have it. Use your mouse to play and click to remove the blocks. Have fun.
Game Controls: Mouse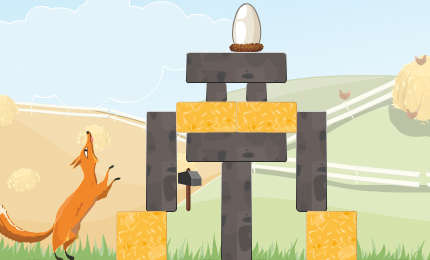 Game Type: Skill & Brain