Hopper 3
Hopper 3 seems easy,it is a very funny game.The Hopper need to collect red spot.But there are obstacles and enemies. Easy and good Ball games.
Play review and controls of Hopper 3 Game
The goal of the game in hopper 3 games is reach to exit.The Hopper must collect all the red spots and take the big star.If you take the big star,level finish.But never you don`t touch flower-shaped object.
Because this object kill you!Another dangerous object is triangles.Don`t touch to grey triangle!You will see other obstacles on next levels.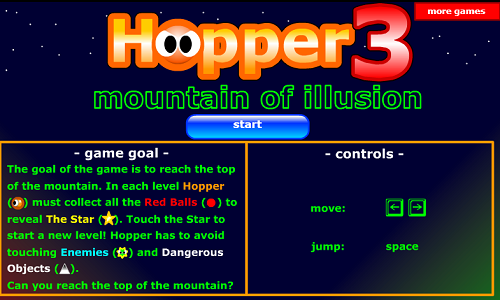 Game Controls: Left/Right 
Jump: Space Bar

Game Type: Ball