Hedgehog Collector
click to square ground and choose way.Hedgehogs move to your selected way.And they reach to exit door. Easy and good Skill & Brain games.
Play review and controls of Hedgehog Collector Game
Goal of the our game in hedgehog collector games is direct to hedgehog.You should provide to the hedgehogs collect apples and reach to exit door.But of course there are some obstacles in hedgehog`s road.Example,there are space and river.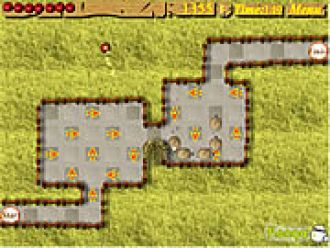 If you need to hedgehog don`t fall into space or river,you should direct to hedgehog onto jump step.In this way,the hedgehog passed level and you win!Be careful about time!
Game Controls: Mouse

Game Type: Skill & Brain