Tiny Sports
The Tiny Sports occur from small games.You should be fast because the game`s time is limited and very short. Easy and good Skill & Brain games.
Play review and controls of Tiny Sports Game
First you should read short explanation.Then you should play as per to the explanations.Usually you will use the mouse for play the game in tiny sports gamess,but sometimes you will use arrow keys,so your finger should stay on the arrow keys.There are 30 levels,you have got 7 lives.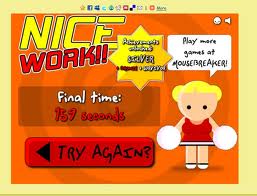 Game Controls: Arrow Keys or mouse
Good Luck!

Game Type: Skill & Brain