Bug Trappers
Play this game with Timun and Pumbaa from the Lion King and try to trap the red bugs with yours. Easy and good Toon games.
Play review and controls of Bug Trappers Game
This is a puzzle game in bug trappers games which you are going to play with Timun and Pumbaa from the popular disney movie the Lion King. You are going to be Pumbaa and you will be playing against Timun. The objective of the game is to trap the opponent bugs, which are red, with your bugs, which are blue. When you make one bug, jump over one of the red bugs, you will make it a blue bug. Playing it this way, try to have the more blue bugs on the game board to win. Have fun and good luck.
Game Controls: Mouse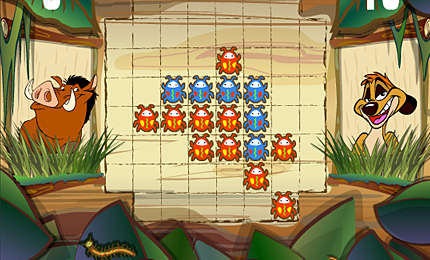 Game Type: Toon