Ninja Ballers
Ninja Ballers is different game.Because you don`t provide to this ball move. Why? We look! Easy and good Ball games.
Play review and controls of Ninja Ballers Game
You don`t provide to this ball move but you draw a line and this ball fall onto line. Goal of the game in ninja ballers games is the Ninja Ball take key and go exit door.There are different support in next levels of game.You should draw a useful line.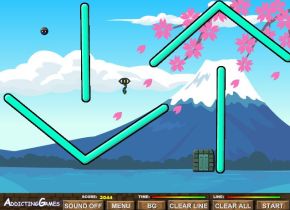 If you think to your line is bad and not useful,first you should click to restart and then click to clear up.
Game Controls: Mouse

Game Type: Ball