Make An Omelette
Yes!This is a cook game.And very enjoyable.If you need learn to make an omelette,this is your game! Easy and good Cooking games.
Play review and controls of Make An Omelette Game
You can make an omelette with this game in make an omelette games.Because it`s as life of real kitchen as.You will learn to make a delicious omelette.First click (with mouse) onto eggs.You should break 3 eggs.Then,spill milk (in the pitcher).You mix with beater.You take one fry pan and put onto cooker.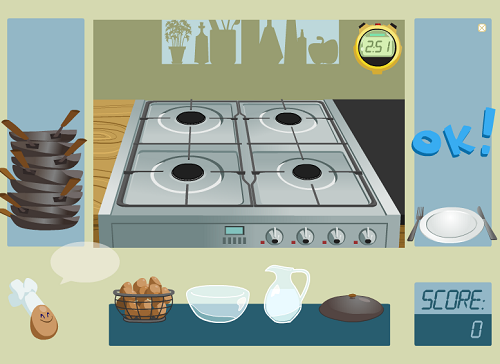 Then,you spill the mixture into fry pan.You take a cover the pan and put onto fry pan.Start cook and you should make more same 3 omelettes.But you should not forget the first omelette(it is cooking).If the omelettes cooking enough,you put into plate.Your time is limited.
Game Controls: Mouse 

Game Type: Cooking